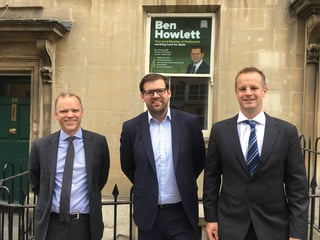 Bus service accessibility for visually impaired passengers is a key topic of concern within the sector, so we were delighted when Ben Howlett (pictured centre with Paul Everson, Trapeze Product manager and Darren Turpin, Trapeze UK Marketing Manager), Conservative Parliamentary Candidate for Bath, agreed to meet with us in April to discuss some of the transport issues currently in play.
According to the RNIB's 'My Voice' survey (2015), 40% of blind and partially-sighted people have been unable to make the journeys that they wanted or needed to make, due to problems associated with using public transport. Specifically, three in ten visually impaired citizens have been unable to travel by bus owing to a lack of accessibility.
This issue has again been brought under the spotlight following the announcement of the Government's new Bus Services Bill, which seeks to empower local transport authorities with a range of tools to improve bus services in their area. In an amendment brought forward in autumn 2016, the Secretary of State imposed regulations requiring all local service operators to provide accessible information on board their services.
During the meeting we discussed what could be done across the UK to cater for blind and partially-sighted passengers who face heightened challenges in navigating bus networks.
Citing Trapeze Group's recent work with Gloucestershire County Council as an example, we discussed the role that technology can play in making public transport more accessible for visually impaired passengers; specifically how talking apps can help users to locate bus stops, identify upcoming departures and alight at the required destination.
Meeting with Ben Howlett presented us with a great opportunity to open up a dialogue on current accessibility issues. He was incredibly receptive to our views and expressed a great deal of interest in how technology could be leveraged to deliver a fully inclusive service, particularly for blind and partially-sighted users.