In many ways last week's Coach & Bus UK 2017 offered few surprises – yet was no less rewarding for all that. We were very pleased to find validation of the challenges and trends we see in the industry – and enthusiasm for technology's potential to address them.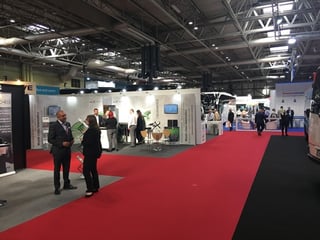 We were particularly interested by Giles Fearnley's theatre seminar early on Wednesday, titled 'Challenges of the last two years and the opportunities ahead'. This session had significant focus on two topics close to our hearts: the impact of driver attrition, and transforming perceptions of bus travel in order to attract passengers.
Attracting Passengers
On the topic of attracting passengers, Mr Fearnley talked about the role that technology can play in delivering data that is trusted by users, and ensuring it is readily available wherever needed. An interesting point here was that a driver of change is actually the end users themselves: "The passengers of tomorrow are not those of today," he said, noting that people are now much better at picking up and adapting to technology, making it possible to deliver better solutions to them. This is a topic we have previously covered with reference to Generation X and Generation Y.
Mr Fearnley also noted that speed of journeys is an important part of the solution, which is a topic we have previously discussed in relation to the impact of congestion and how technology may address it.
Driver Engagement
The other topic covered by Mr Fearnley was driver attrition, which tied in very nicely with our own big announcement of the day: at Coach & Bus UK Trapeze formally launched a new product: a new driver interaction portal called DAS OnBoard.
OnBoard improves life for drivers by enabling them to interact with the traffic office wherever and whenever they wish, taking advantage of the latest mobile technology and offering a simple and user-friendly interface. It also improves the overall driver experience by facilitating roadside sign-on (removing the need to visit depots) and can even offer integrated virtual shift swap shops and driver training.
Information for Visually Impaired Passengers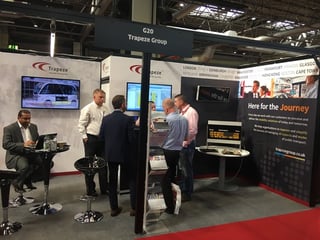 Elsewhere at the event, we were excited to find that many of the trade magazines were keen to speak with us regarding our 'Talking App', which makes it easier for visually impaired passengers to use bus services, and seems to have really struck a chord in the industry. Technology developments are not always quite so perfectly aligned with wider industry developments – we have the Bus Services Act to thank for highlighting the issue of accessible transport for the visually impaired.
Let's Be Bold
Finally, it feels apt to close with another comment from Mr Fearnley, who noted that in relation to use of technology, "we will be rewarded for being bold". Given the positive response to DAS OnBoard and Talking App we're inclined to agree.
Did you attend Coach & Bus UK 2017? We would be interested to hear your thoughts.